A place for sharing moments of discovery and exercise, inner enquiry and conviviality, silence and beauty.
Since 1999 Casa della Pace has been offering hospitality to seminars and retreats of yoga, meditation, dance, massage or other activities in tune with the spirit of the place. From April to October the weather is generally warm enough for outdoor activities.
Some features of Casa della Pace:
A centuries old de-consacreted church with wooden floor (having a surface of about 70 square mt.) is now the studio for pratice, where there are available eleven futons, pillows for sitting,  a  hi fi music device, wifi, a video screen with a DVD player, material for yoga in the Iyengar style. The studio  can be heated in Autumn and Springtime.
Twenty persons can find a comfortable accomodation in nine rooms, seven of which with private bathroom, and our apartment, 4 km far, can accomodate five people more. We also have three beautiful yurts, that can accomodate six more people with two shared external bathrooms.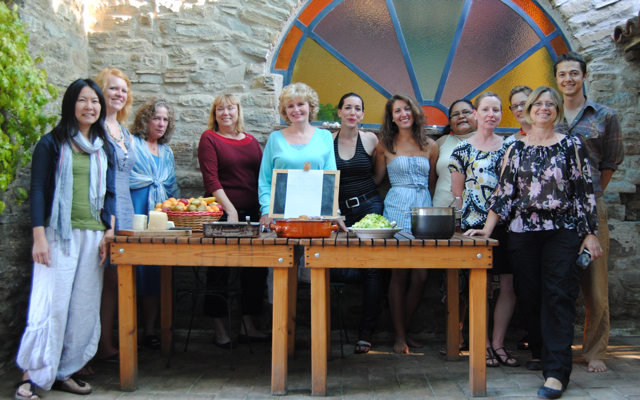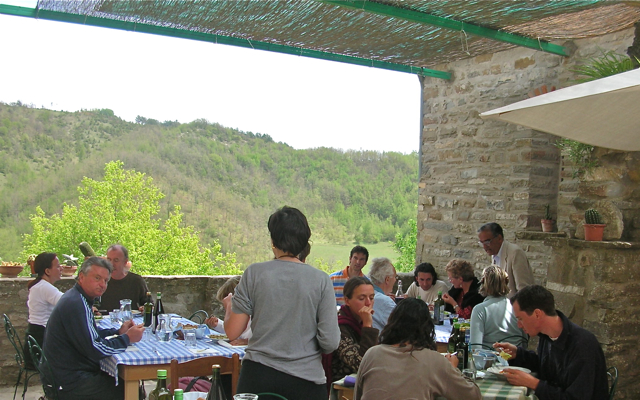 Meals can be taken in two dining rooms, one with a large open hearth for log fires. An adjacent courtyard provides a shady area for summer outdoor meals.
Around the house: a small swimming pool and lawns in the sun or shady, deck-chairs, hammocks.
The surrounding countryside offers the opportunity for wonderful walks in nature thanks to the many quiet roads and paths winding through the woods and over the hills.
Meals are purely vegetarian, largely organic, prepared with great care. The style is Mediterranean and international. We can meet particular dietary needs as allergies, etc.
The price include the room, meals, wine if requested, teas and fruit always available, the use of the church, of the lawns and of the pool. See prices page for information.